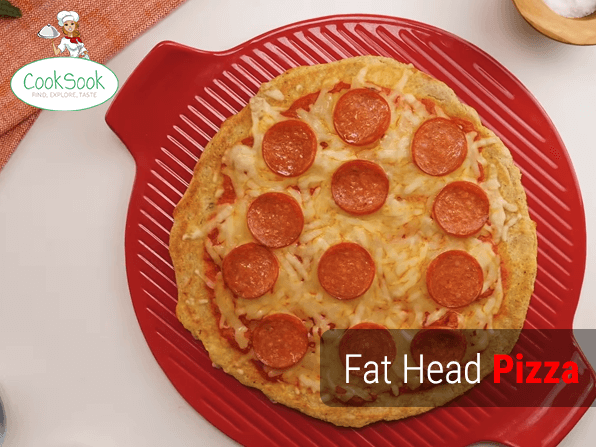 Fat Head Pizza
low-carb keto pizza recipe
Here goes the easy to make step by step fat head pizza recipe
Ingredients
3 cups shredded part-skim

Mozzarella

Mozzarella cheese (about 8 ounces)

1 ounce

Cream Cheese

(about 2 tablespoons), cut into 4 pieces

1 cup grated (Parmesan Cheese)

Parmigiano-Reggiano

1 cup

Fresh Broccoli

Broccoli florets, cut into bite-sized pieces
Directions
What is Fat head pizza and How to make Fat head pizza Recipe
A Fat head pizza is basically cooked on a gluten-free dough which is quite low in carbs as compared to other regular pizza. Made with mozzarella cheese, cream, egg, and some low carb flour like almond or coconut flour. Flat head pizza recipe is quite famous for being low carb. It's completely gluten-free, grain-free and prepared with fantastic filling. It is not very tough to prepare and can be made easily at home.
Special Tips to Make Fat head pizza
You can store the leftovers in an airtight container in the refrigerator for up to 3 days.
Preheat the oven to 400°F and also heat the baking sheet.
Add 2 cups of Mozzarella and cream cheese in a large microwaveable bowl and place in it in the microwave for around 1 minute.
After one minute check it and give it a stir to combine it. Return it to microwave for 30 more seconds, until cheese has completely melted. (Alternatively, you can also melt the cheeses in a non-stick skillet over medium-low heat, and then transfer the melted cheeses to a large bowl).
Using a spatula, stir the melted cheeses together to make it smooth and cool. Add flour and egg in it and gently mix the dough using your hand to combine it. Knead the dough properly until smooth. Make it a homogeneous dough with no visible pockets of cheese or egg.
Press the dough out into a 10-inch circle on parchment paper. Working with well-oiled hands, transfer the dough onto the parchment paper and press it into a 10-inch round.
If the dough is very sticky, cover it with another piece of parchment and use a rolling pin to roll it into the circle. Use a fork to poke and "dock" the dough all over and prevent bubbles in the oven.
Par bake the crust for 8 minutes. Move the pizza crust on the parchment onto the hot inverted baking sheet. Bake for 8 minutes. While the crust bakes, make the garlic sauce.
Make the garlic sauce. Place the Parmesan, cream, and garlic in a small saucepan over low heat and bring to a simmer. Simmer, stirring regularly, until thickened, about 3 minutes; set aside.
Top the pizza. Remove the crust from the oven. Evenly top with the cream sauce, broccoli florets, and remaining shredded cheese.
Bake until golden, another 5 to 7 minutes. Return the pizza to the oven and bake until the crust is a deep golden brown and the cheese on top is melted, 5 to 7 minutes.
Cool and slice. Transfer the pizza to a wire rack and let it cool down for 5 minutes before slicing and serving.